About Us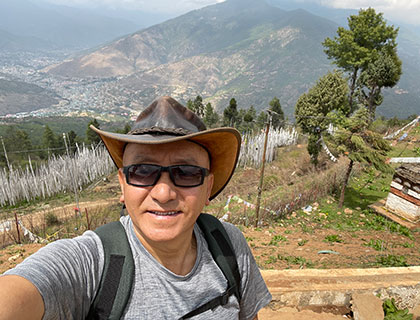 Bhutan Mountain Holiday is the simple answer to the complex needs of our valued guests visiting Bhutan. It is a dynamic establishment owned and managed by Mr. Karma Gyeltshen a tourism professional with decades of field and management experiences having pursued his advanced studies in tourism management from Austria. Bhutan Mountain holiday is a specialist destination management company, in/outbound tour operator with offices in USA, India, Nepal, Thailand, Republic of Korea, South Africa and the United Kingdom offering custom designed itineraries for groups or FIT travel needs in south east Asia. But from the point of major platform, we are a Bhutan specialist.
Our tours are neither regimented 5-star packages nor unplanned forays into the unknown. They are authentic experiences of foreign places and cultures, where quality and interest comes first. Quality should not be confused with luxury as we believe that the best way to discover the essence of a country is to use accommodation with character and transport appropriate to the terrain, whether that is a putting up in luxurious hotels or having to sleep in tents or at a village farm house. Whatever your preference, if you have a natural curiosity about the world and a desire to explore it, the chances are that you'll find an ultimate tour to suit you.
Our Mission is to provide a highly innovative, quality and personalized service to our esteemed clients to ensure a memorable and trouble free holiday experience.
BMH's Obligation To You
Green tourism: We run all our trips in as responsible manner as possible, socially, culturally, economically and environmentally, and we ask you to 'police' this for us.
Contentment: We rely very heavily on word of mouth and repeat custom for our bookings, consequently it is very crucial that we give our clients the best holidays possible.
Excellence: We don't aim to be the most luxurious or the cheapest, but we do aim to give the best value without cutting corners.